Ensuring excellent customer service from Exponential-e


Customer feedback is essential to driving change and innovation within Exponential-e. We monitor and measure the interactions that our customers have with our teams, and we act on the feedback given whether positive or negative.
After all, can there be any more important metrics inside a company, than understanding which of our customers are happy or disappointed?
Launched in September 2015, our Voice of the Customer programme has enabled us to keep track of our customer's opinions and work to improve them where necessary. With the ability to see, in real time, how happy our customers are we can tell where we need to make changes and also what we are doing right.
What is the Customer Thermometer?
Designed to provide our customers with an interface to provide us with their feedback, the Voice of the Customer is attached to the incident report or communication our customers receive when an incident is resolved. This means that they can tell us whether they are satisfied with the way in which we have handled the issue, or if they don't believe their issue has been resolved they can re-open the case at the touch of a button, as our thermometer tool is integrated with our ServiceNow platform.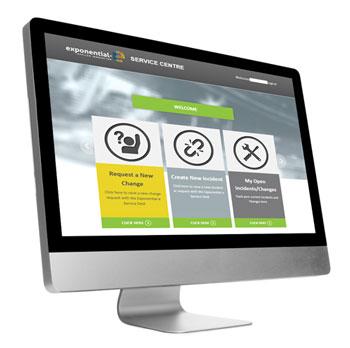 A 4 point scale, quick and easy for you
One of the reasons we chose Voice of the Customer was to keep it simple for you, our customers, to respond quickly and easily. Any more than 4 options would start to get complicated, moreover we want to be able to respond quickly and effectively to any feedback we get to ensure if there are any complaints we can rectify them.
With ratings including 'poor', 'just ok', 'good' and 'excellent' we provide our customers with the options they need to get their point across to us, with an area for additional feedback - whether that be praise or additional information that we may need to ensure we offer a better service next time.

Our Client Relations team also ensure that for any feedback we receive which is rated poor, or just ok, we give the customer a call within 24 hours so that we can resolve their outstanding issue or grievance as soon as possible.
Pretty good. So far, we have received an 82% rating of excellent or good!
Not only do we log each piece of feedback for internal use, but it also enables us to meet requirements for our ISO 20:000 accreditation.
Customer service excellence is at the heart of Exponential-e, which is why gathering feedback from our customers is essential to ensure our ongoing development and improvement.
We're here to help, whatever your query may be.
Just get in touch using our contact form below, or alternatively if you want to speak to somebody right now call us on 0845 470 4001.
London Head Office - 100 Leman Street, London, E1 8EU - Tel: 020 7096 4100 | Manchester Office - 3 Hardman Street, Manchester, M3 3HF - Tel: 0161 669 4050
*Calls to 0845 numbers will cost 7p p/m plus your phone company's access charge. All inbound and outbound calls may be recorded for training or quality purposes.